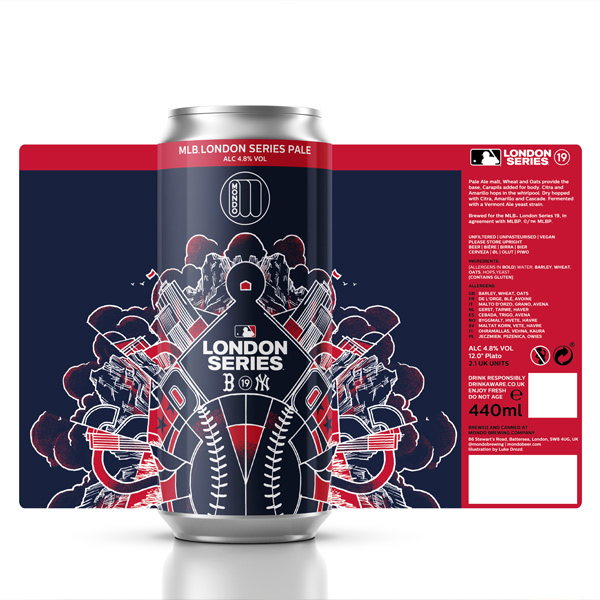 The MLB rolls into town at the end of this month, with the Boston Red Sox and New York Yankees facing off at the London Stadium. We'd already instigated an exciting unofficial project to celebrate, producing collaborations with Boston's Harpoon Brewery and Night Shift Brewing, and New York's Captain Lawrence and Gun Hill breweries. The four beers just landed in the country and will be exclusively available at Mother Kelly's Stratford, join us there on Thursday 27th June for the launch, and of course Mondo Tap.

We'll be screening the Saturday game and you can register your interest by clicking here.

If that wasn't exciting enough, as you'll see from the image above, we've only gone and collaborated with the MLB and produced a beer for the series. You'll be able to drink the MLB London Series Pale at pop up bars around the stadium on game days and exclusively at the London Yards fan celebration in the Old Truman Brewery.

It's been a lot of hard work to get this in place and we're super excited to be a part of it. Let's play ball!​​​​​​​
Current office artwork favourite and also the cause of many of our 4th birthday hangovers…Flute Logic is a hazy, contemporary IPA balanced with just the right amount of bitterness, great aroma and a grown up ABV. The loose inspiration for the artwork came from a classic image of Jethro Tull knocking around the office, with Luke drawing to a style inspired by jazz artist Jim Flora. He's created a distinct illustration style for our brand refresh, so it's been nice for him and for us to break from it a little.

Available now in can and keg. Yes, we can.​​​​​​​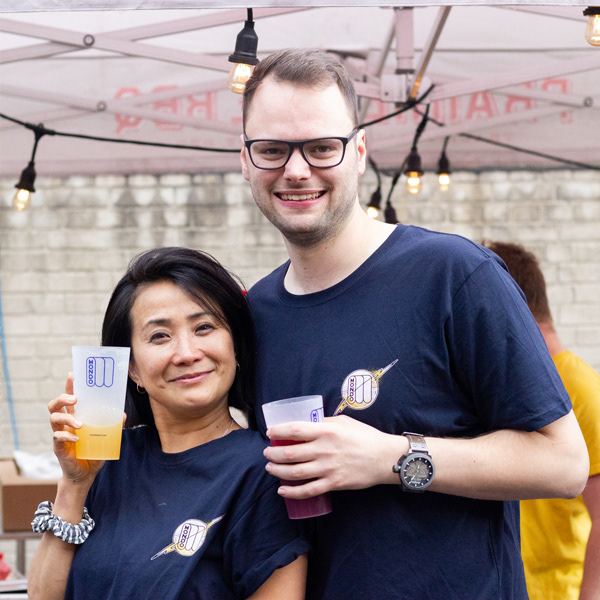 Lots of love and a huge thank you to everyone that came down to celebrate our birthday with us on Saturday. An event that felt like a culmination of all the hard work put in so far this year, from rebrand to expansion, 2019 was always going to be an important one. To celebrate its midway point (and our fourth year trading) with such a classy and friendly group of people was the only way to do it. ​​​​​​​
Our inaugural running club last Thursday kicked off in style. We had a team of twelve hit Battersea Park and the surrounding bridges for a casual 7km social run. Obviously then back to Mondo Tap for a pint. We'll be repeating in July, with the aim to get to two runs a month. Interested? Drop us an email and we'll keep you up to date.​​​​​​​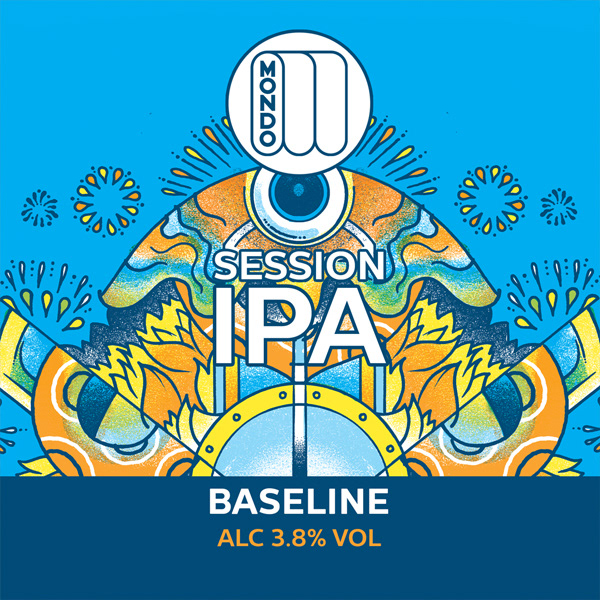 We had the desire to brew something super sessionable as we hit what we hope will be some warm summer months. Introducing Baseline, to be packaged into keg and can next week. Luke's artwork was inspired by the Ken Russell film, Altered States. Don't ask us why. Anyway, it looks GREAT.

Best Ale malt provides the base, Wheat and Carapils added for body. Columbus hops for bittering. Idaho 7, Galaxy, Amarillo and Mosaic in the whirlpool. Dry hopped with Idaho 7, Galaxy, Amarillo and Columbus. Fermented with our house West Coast Ale yeast strain.​​​​​​​